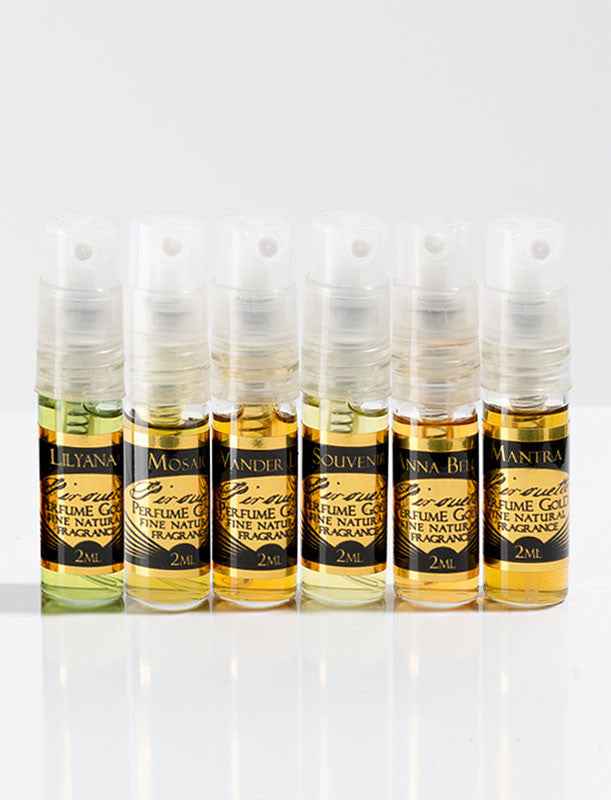 Natural Perfume Gold - Deluxe Sampler
$65.00
Experience all our Gold perfumes in this luxurious box set. Includes a generous 2ml atomizer of each scent:
Anna Bella: An ultra feminine sweet and airy floral with honeysuckle, rose, tuberose and warm base of pink pepper, amber, buddha wood and cardamom.
Mosaic: Green botanical musk with forest notes and powdery layers of golden champa, sandalwood, oud with sacred temple incense resins.
Souvenir: Billowy florals with pink lavender, orange blossom, sweet pea and mimosa in a soft, grassy-green base with our extraction of superior jasmine green tea.
Wanderlust: An intriguing blend of scents from around the world featuring leather, saffron, tobacco, black tea, spices and smoky woods.
Mantra: Sultry, deep black amber rooted in premium sandalwood, rare mitti attar - extracted from the sacred soil of India, vintage patchouli and elegant spices.
Lilyana: A sophisticated aquatic floral with an exquisitely fresh bouquet featuring delicate lilies, tuberose and pink lotus blossoms floating across lush greenery and tender earth.
Perfume Gold is...The ultimate luxury in fine natural fragrance. These exquisite aromas are created from the most precious and rare botanicals gathered across the globe. Experience a scentsory journey to exotic destinations and magical landscapes that spark joy and inspiration.