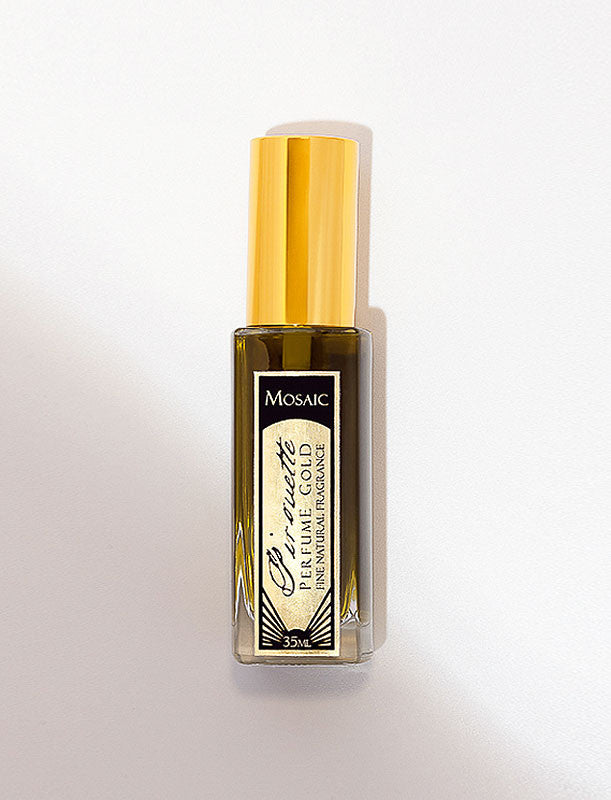 Mosaic - Natural Perfume Gold
$12.00
Aromatherapy Blend: Meditation
Chakras: Root, Solar Plexus and Heart

Mosaic is the ultimate journey for musk lovers. This immensely rich, botanical musk is not only complex and satisfying, but wonderfully long lasting as it unfolds in layers revealing a deep, powdery dry down over several hours. Its voluptuously wooded, mossy-green base is reminiscent of entering into a velvet floored, magical forest. Deep in the forest you discover a sacred temple. You hear chanting, and the memorizing aromas of resinous incenses draw you inside its doors. You've been here before, but when? You have a sense of knowing, but what? These secrets are hidden within the Mosaic.
Crown:
Forest Moss
Rosewood
Coriander
Neroli

Heart:
Frankincense
Ambrette
Golden Champa
Honey Amber

Root:
Sandalwood
Agarwood (Oud)
Green Vetiver
Dark Amber
Perfume Gold is...The ultimate luxury in fine natural fragrance. These exquisite aromas are created from the most precious and rare botanicals gathered across the globe. Experience a scentsory journey to exotic destinations and magical landscapes that spark joy and inspiration. 
Ingredients: Essential Oils, Natural Rein and Organic Extracts in a base of Denatured Grain Alcohol. Vegan and 100% Natural